What Is Preventative Dentistry? Why Do We Need It?
October 13 2020 by Mills Haven Dental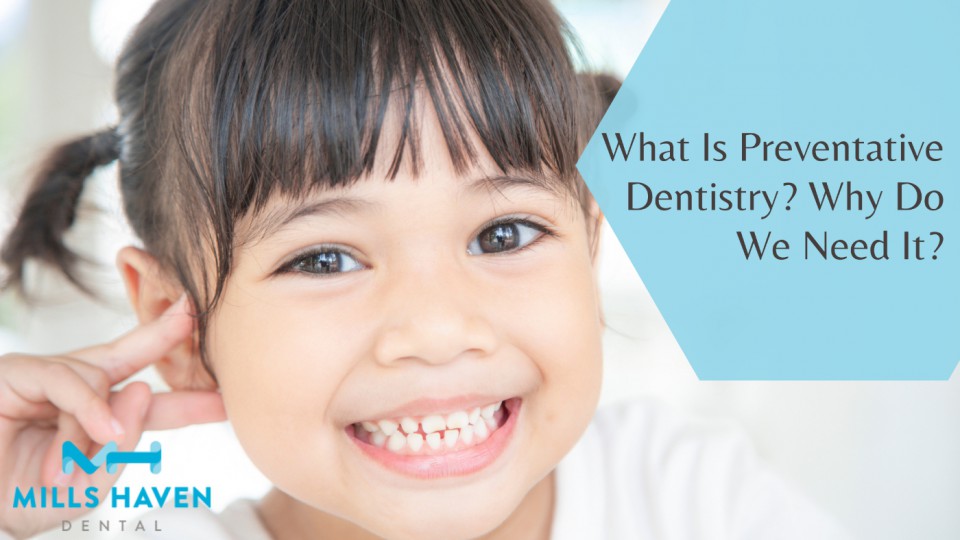 The foundation of making good habits and choices is to take care of our future selves, right? Well, the same is true when it comes to our oral health.
Preventative Dentistry (also called preventive dentistry) encompasses all the different ways we care for our teeth and gums to keep them healthy BEFORE there's a problem.
Practicing great oral habits is a gift to your future self.
There are tons of different kinds of preventative dentistry, and they all work together to make a holistic plan. Here are some examples:
Daily hygiene habits by flossing & brushing

Regular teeth cleanings with your dental hygienist

Routine exams and x-rays (just to make sure)

A well-balanced diet

Mouthguards during sports & for sleeping

Fluoride or sealant applications

Crowns and caps on minor damages
Tip: Your diet has a big impact on your teeth. Reduce the number of sugary or acidic foods you eat, but don't feel pressured to cut them out completely! Check out the Oral Health Foundation for even more at-home tips.
Why Prevent?
The main reason for preventative dentistry is so that you'll avoid developing severe dental problems. By adopting preventative practices, you may be able to keep cavities, enamel loss, and gum disease at bay.
The other reason is so that we can identify dental problems EARLY and before they get out of hand. Preventative dentistry has saved millions of people painful treatments and excessive costs. Sometimes preventative dentistry helps us uncover more serious issues going on with our health.
We want you to have the best oral health possible, and that means putting in the work when you're not sitting in our chair.
Who Should Practice Preventative Dentistry?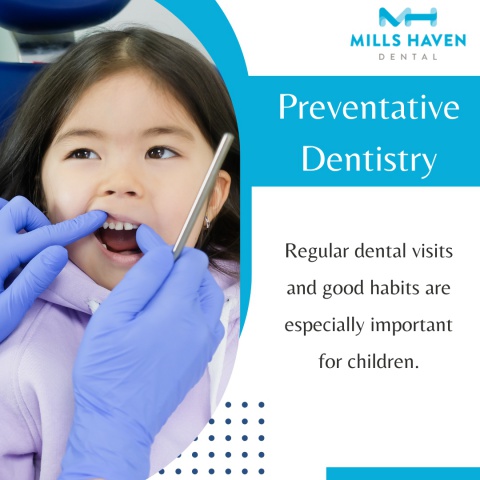 The simple answer? EVERYONE.
However, preventative dentistry is especially important for the kids in our community. Their little teeth are going through A LOT and can be more susceptible to cavities and tooth decay. We want to make sure that they're developing healthy, strong adult teeth, but also the habits that will keep those teeth healthy well into adulthood.
If you're a parent, we may recommend dental sealants and topical fluoride for your kiddos when they come for a visit. This will help keep their teeth free from cavities and decay because let's be real… Most of them love candy and hate brushing.
How Can My Dentist Help?
A great relationship with your dentist is key to great preventative dentistry.
By making regular visits, your dental team will become familiar with your oral history and be able to provide you with the best support possible. You should visit your dentist at least once a year, but some patients are recommended to get a good cleaning twice each year. We'll work with you to find the right amount of visits each year.
Together, we will be able to detect if any of your teeth are in trouble of chipping or cracking, or if there's anything alarming in your exams and x-rays.
Let's get to know each other. Book an appointment with Mills Haven Dental soon.