4 Tips to Care for Partial Dentures
May 13 2020 by Mills Haven Dental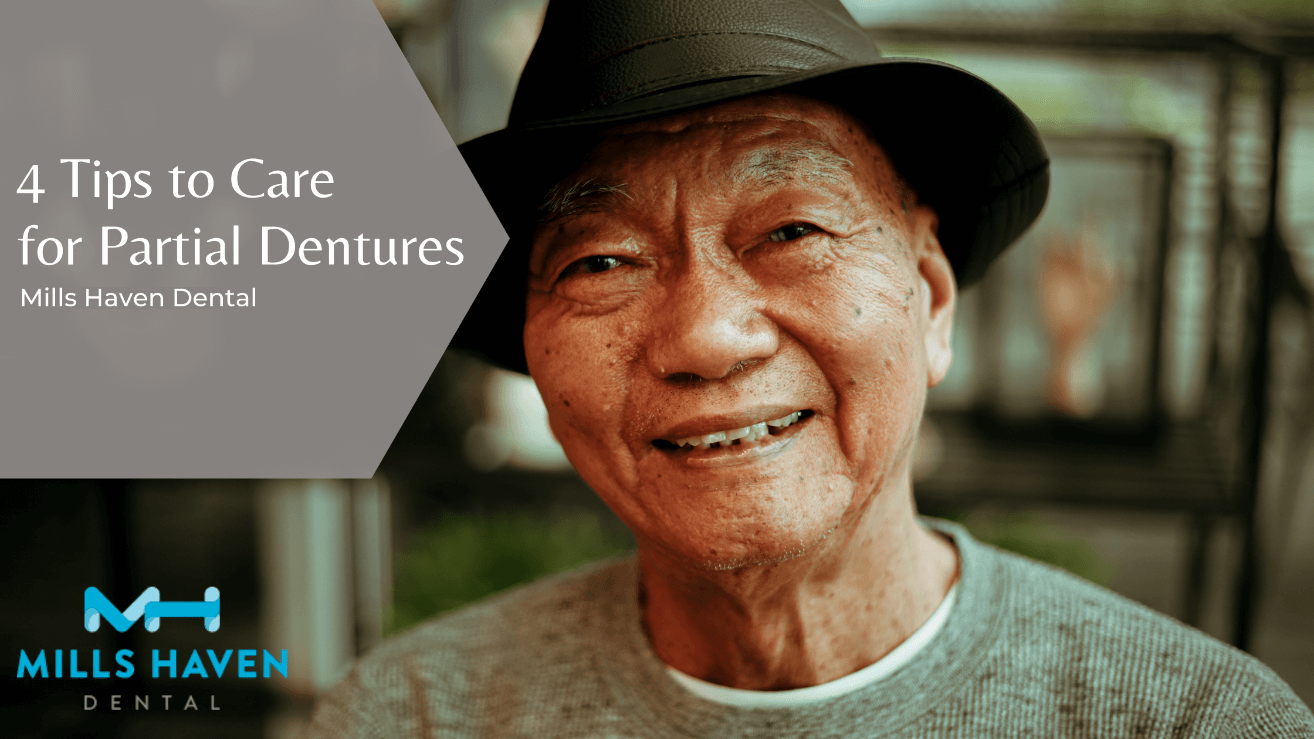 You're here because either 1) you want to know how to care for your partial dentures, or 2) you're thinking about getting partial dentures and wondering if they're a pain to maintain.
We're happy to tell you that caring for partial dentures is easy , and it doesn't cost you a lot of time.
We want to share 4 tips with you so that your partial dentures will last a long time.
#1 NEVER Bite Down
There may be times when you feel like your partial dentures just aren't fitting right. Whatever you do, do NOT bite down to get them to fit. Biting down risks breaking or bending your dentures; clasp.
Instead, take a breather, and try again. If you're still having issues getting them to fit right, make an appointment with your dentist.
#2 Keep Them Clean
Just like your real teeth, you should clean your dentures at least twice every day with a toothbrush (don't get one that's too hard; a soft bristle will do great). Brushing your teeth regularly will help avoid plaque build-up and leftover food. Plus, you reduce the risk of staining.
However, UNLIKE your real teeth, you shouldn't use toothpaste to wash your dentures. Toothpaste can be too abrasive and scratch up your dentures. Instead, use a dental cleanser that your dentist recommends.
Tip: Now is a good time to invest in a sink stopper or strainer. A regular story we hear from our clients is losing their partial dentures down the drain.
Best case scenario, they get them back, but they're covered in… well, disgusting stuff.
Worst case scenario: They don't find them again. Don't do that to yourself.
#3 Your Nighttime Routine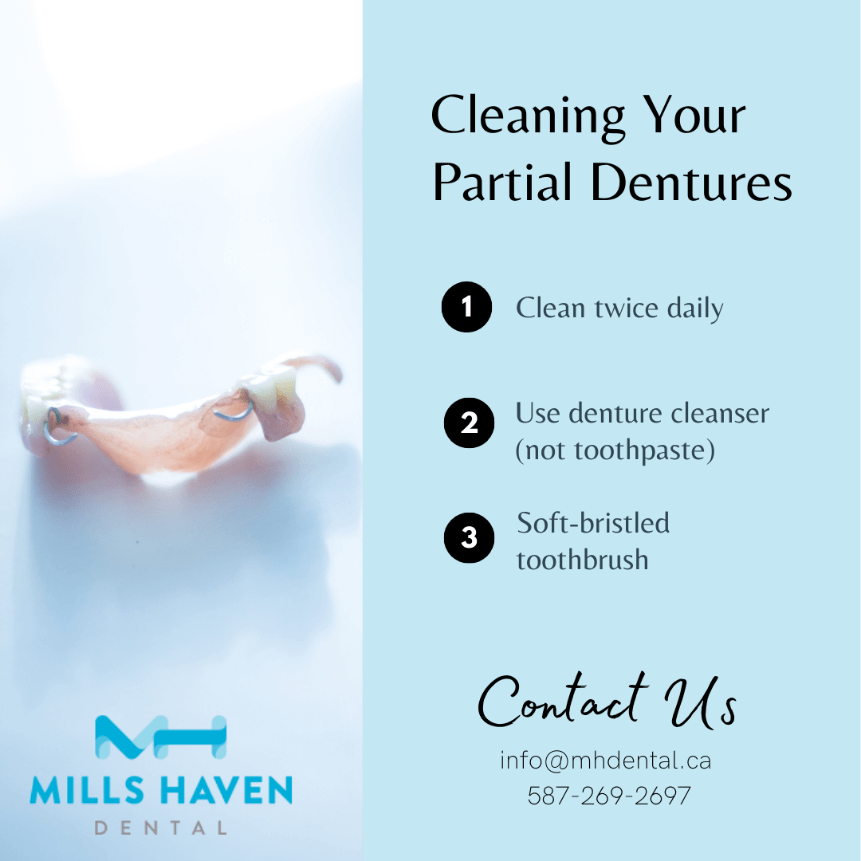 Unless your dentist has told you otherwise (they do know best, after all), do NOT wear your partial dentures while you're sleeping. Even if you feel great, your gums and teeth need a rest, and so do your dentures.
Once you're ready to tuck in for the night, soak your partial dentures in cold water or a prescribed solution. This will help them retain their shape and keep them safe from any nightly grinding.
#4 Mind What You Eat
There are some foods that you don't want to eat with your partial dentures. This is because they could cause damage to the dentures, like scratching them up or even dislodging your new teeth.
Planning on snacking on the below? Take your dentures out first.
Chewing gum
Hard candy or mints
Unripe fruit (let those apples sit another day)
Meat still on the bone
Nuts and seeds
Pro Tip: Have a glass of water while you eat. This will make it easier for you to chew and swallow your food while wearing your partial dentures.
Get Your Full Smile
If you're looking for a new set of partial dentures OR you need help with the ones you already have, the Mills Haven team wants to help!
By the way… Your partial dentures should never hurt. If you have bleeding gums or sharp pain, stop wearing them and reach out to your dentist. Don't be alarmed if they're bulky, awkward, or uncomfortable in the beginning.